🥘Reusable Non-Stick BBQ Grill Bags
Tired of standing by the grill or letting food fall into the cracks and having to spend hours cleaning the grill? These mesh bags prevent food from falling between the cracks and sticking to the grill! Enjoy BBQ with bags now, no worries!

Features:
Grill Properly, Neatly and Cleanly - This mesh pouch is designed with advanced non-stick material and is the ultimate solution to keep food from sticking to the grill. The grill bag design holds all food on top, so it can be heated and grilled evenly.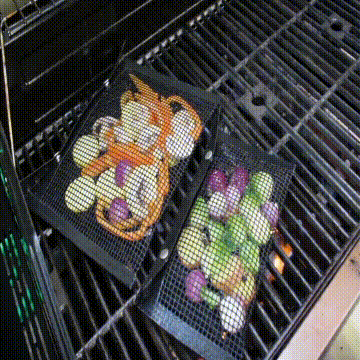 Easy to clean and reusable - A clever little bag keeps your food away from all the pesky black charcoal on the grill! The stickers are explosion-proof and reusable, dishwasher-safe food safety bags! The barbecue is delicious and ecological!
MULTI-PURPOSE: Use this mesh bag for grilling in your backyard or use it for grilling smoked or steamed foods! This non-toxic, food-safe bag has high heat resistance. Easy cooking in any situation, your ideal companion!
How to use👇
Put the food into the barbecue bag, you can grill directly on the fire. Convenient and fast, it also ensures that food does not leak.
Features:
Material: PTFE
Size: S: 14x24cm (black/Gold); / L: 22 x 27 cm (black/Gold)
The package includes: